This new short play was commissioned by the Bush Theatre as part of "Sixty Six Books", a celebration of the 400th anniversary of the publication of the King James Bible. 66 writers were invited to each choose one book of the Bible to respond to. The show was the opening production of the new Bush Theatre in October 2011, and included two 24-hour performances of the whole cycle of plays and one 12-hour overnight performance at Westminste Abbey.
This one-act black comedy, Trevor Griffiths's first stage play, written in 1969, received its first revival in nearly 40 years at The Old Red Lion Theatre in Islington in May 2010, in an acclaimed production directed by Prasanna Puwanarajah and starring Ryan Gage, Alan Francis and Richard Sandells, Reviews of this production can be found in the Trevor Griffiths section of the Spokesman Books website at www.spokesmanbooks.com
Oi for England  played on the Fringe at the Edinburgh Festival at Venue 13 this year, in a new production by the Not Too Tame Theatre Company, directed by Jimmy Fairhurst.  "An energetic and fascinating revival" … "a master class in compression and texture, rounded off with a brilliant and unexpected twist" ( www.theatre-wales.co.uk/reviews )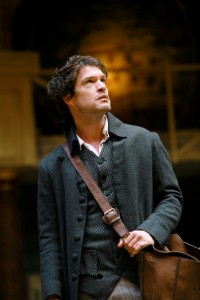 A New World: A Life of Thomas Paine,  written to celebrate the 200th anniversary of Paine's death, played at Shakespeare's Globe Theatre in the summer of 2009.  Directed by Dominic Dromgoole, designed by Tim Shortall, with music by Stephen Warbeck, the company included John Light as Paine, Keith Bartlett as Ben Franklin, Laura Rogers as Marthe, James Garnon as Danton, Dominic Rowan as George Washington and Alix Riemer as Carnet.
"… big, bawdy, hugely ambitious, jaw-droppingly original and imbued with a tremendous sense of fun, it's also executed, as everything always is under Dromgoole, with faultless professionalism." Sunday Telegraph
  " … a moving and informative tribute to the man Michael Foot once called 'the greatest exile ever to leave these shores' ….. Griffiths has the priceless ability to show the power of Paine's ideas and to make history come alive …..  This is an intelligent historical spectacle packed with contemporary resonance."  The Guardian 
A New World  is the stage adaptation of the screenplay These Are The Times: A Life of Thomas Paine.
First performed in New York in November 2001, as part of an evening of staged readings of new short plays under the collective title Imagine: Iraq, written for the Artists' Network of Refuse and Resist.  Directed by Jeremy Pikser.
The first UK performance was at the Studio Theatre in the V & A Theatre Museum in Covent Garden, London, in April 2006, as part of a triple bill of short plays by Trevor Griffiths collectively titled To The Mountain.  With Fenar Mohammed-Ali and Lisa Came, directed by Tamara Hinchco, produced by Alex McConnell for the Little London Theatre Company.
A touring production of Camel Station with the same cast was produced by Midland Actors Theatre, directed by David Allen, in 2006.
see also Publications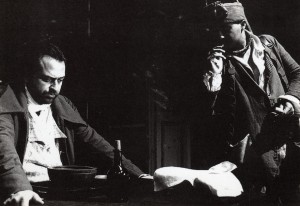 Stage version of the television play Hope in the Year Two.  First performed at the Belfast Festival in 1995, with Stanley Townsend as Danton and Kulvinder Ghir as Henry.   Written and directed by Trevor Griffiths.  Produced by Mad Cow Productions.  Subsequently toured in Europe and in England, with a season at the Bush Theatre in London.
see also Publications
First performed at the Bristol Old Vic in May 1993, with Kulvinder Ghir, Marva Alexander, Ian Driver, Heather Imani, Miranda Pleasance, Cassie Stuart and Giles Thomas.  Directed by Andrew Hay.
see also Publications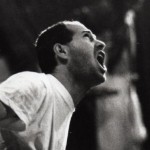 First performed at the West Yorkshire Playhouse, Leeds, in January 1992.  With  Akram Telawe, Dave Hill , Kulvinder Ghir, Selwa Naqqara, Yacoub Abu Arafeh, Ahmad Abo Sal'oum.   Written and directed by Trevor Griffiths.  Produced in association with The Building Company.
see also Publications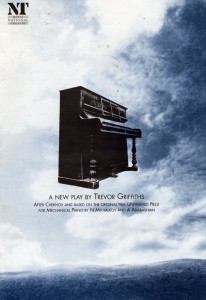 A version of Chekhov's Platonov  based on the film Unfinished Piece for Mechanical Piano by Adabashyan and Mikhalkov.  First performed at the Cottesloe Theatre at the National Theatre in August 1990.  With Stephen Rea, Penelope Wilton, Oliver Cotton, Geoffrey Palmer, Suzanne Burden, Julia Ford, Basil Henson, Philip Voss, Duncan Bell, Peter Caffrey, Stephen Moore, Keith Bartlett, Kevin O'Donohoe, Robbie Engels and Michael O'Connor.  Directed by Howard Davies.
see also Publications and More Pics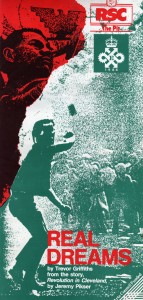 First performed at the Williamstown Theatre Festival, Massachussetts;  with Scott Burkholder, Kevin Spacey, Dylan Baker, Robin Bartlett, Nina Bernstein, Nick Brooks, Sonia Jaeger, Lucinda Jenney, Charles McCaughan, José Santana, Jon Tenney and Ashton Wise.   Written and directed by Trevor Griffiths. 
London premiere, Royal Shakespeare Company at the Barbican, 1986; with Gary Oldman and Adrian Dunbar; directed by Ron Daniels.
Real Dreams is based on a short story, Revolution in Cleveland,  by Jeremy Pikser.
"Real Dreams  is respectfully dedicated to those many Americans who continue to struggle for justice and equality against all the odds in a land, long mad, whose Dream has by now become, almost literally, the rest of the world's nightmare; and if to one in particular, to the friend, comrade and writer of promise who gave me his story."  (Trevor Griffiths, 1987) 
see also Publications, Direction