Real Dreams (1984)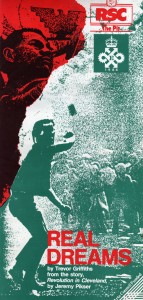 First performed at the Williamstown Theatre Festival, Massachussetts;  with Scott Burkholder, Kevin Spacey, Dylan Baker, Robin Bartlett, Nina Bernstein, Nick Brooks, Sonia Jaeger, Lucinda Jenney, Charles McCaughan, José Santana, Jon Tenney and Ashton Wise.   Written and directed by Trevor Griffiths. 
London premiere, Royal Shakespeare Company at the Barbican, 1986; with Gary Oldman and Adrian Dunbar; directed by Ron Daniels.
Real Dreams is based on a short story, Revolution in Cleveland,  by Jeremy Pikser.
"Real Dreams  is respectfully dedicated to those many Americans who continue to struggle for justice and equality against all the odds in a land, long mad, whose Dream has by now become, almost literally, the rest of the world's nightmare; and if to one in particular, to the friend, comrade and writer of promise who gave me his story."  (Trevor Griffiths, 1987) 
see also Publications, Direction