A New World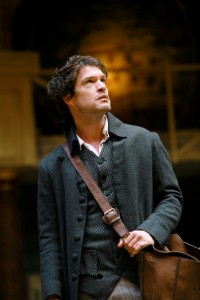 A New World: A Life of Thomas Paine,  written to celebrate the 200th anniversary of Paine's death, played at Shakespeare's Globe Theatre in the summer of 2009.  Directed by Dominic Dromgoole, designed by Tim Shortall, with music by Stephen Warbeck, the company included John Light as Paine, Keith Bartlett as Ben Franklin, Laura Rogers as Marthe, James Garnon as Danton, Dominic Rowan as George Washington and Alix Riemer as Carnet.
"… big, bawdy, hugely ambitious, jaw-droppingly original and imbued with a tremendous sense of fun, it's also executed, as everything always is under Dromgoole, with faultless professionalism." Sunday Telegraph
  " … a moving and informative tribute to the man Michael Foot once called 'the greatest exile ever to leave these shores' ….. Griffiths has the priceless ability to show the power of Paine's ideas and to make history come alive …..  This is an intelligent historical spectacle packed with contemporary resonance."  The Guardian 
A New World  is the stage adaptation of the screenplay These Are The Times: A Life of Thomas Paine.